データ可視化,データマイニングおよび統計のための高速な直感的ツール


DataDesk
1986年以来長年にわたり科学・技術・ビジネス分野で多くのユーザに視覚的に直ちに分かる洞察力を提供してきました。
---


データを理解するための強力な可視化ツール:
Data Desk 6.0 および Data Desk Plus 6.0 make it fast and easy to see the patterns and relationships in even large datasets. The program offers many traditional statistics techniques, but its true strengths are its dynamic visualization and exploration tools for getting to the heart of your data.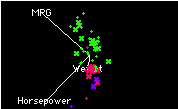 Data Desk is a fast, easy-to-use data analysis package that has been helping people understand their data since 1986. Data Desk provides interactive tools for data analysis and display based on the concepts and philosophy of Exploratory Data Analysis. Data Desk implements many traditional statistics techniques suitable for data from planned experiments and sample surveys. However, the program's true strength is its powerful tools for data exploration. These tools simplify intuitive examination of your data. No special training in statistics is needed for these insightful graphic displays. When you explore your data with Data Desk, you will find patterns and relationships. But you will also bring to light the elements that don't fit -- often the most important discovery you can make about your data.

Putting Exploratory Data Analysis to work for you means displaying your data in many related ways. It means computations fast enough to try out several alternative analyses in the time that you might have expected to spend on a single analysis. It means linking all these views of your data to get a deeper understanding of the patterns, relationships, and exceptions in your data. Click on the pictures below to view descriptions and examples of some important Data Desk features.

●ドラッグ&ドロップ

●対話型解析

●動的グラフィックス表示

●相互リンク・プロット

●テンプレート・ファイル

●直接操作インタフェース

●使い方が簡単

●高速・小容量

●Exploratoryデータ解析

●機能一覧

●開発者

●よく聞かれる質問と回答

●Reviews and Awards

●Demo Download

ご注文はエコノミスト社へ

---


ActiveStats:マルチメディア統計トレーニング・コース
Build or renew your statistics skills. Come back for help with your current work. ActivStats is an introductory tutorial that uses a full array of media to help you master key concepts and try out your skills on real-world data. It then remains an ongoing statistics reference.





注: ActiveStats単体での販売は行われておりません。DataDesk 6.0 + ActiveStats を同梱した Data Desk Plus 6.0 として、セット販売となります。